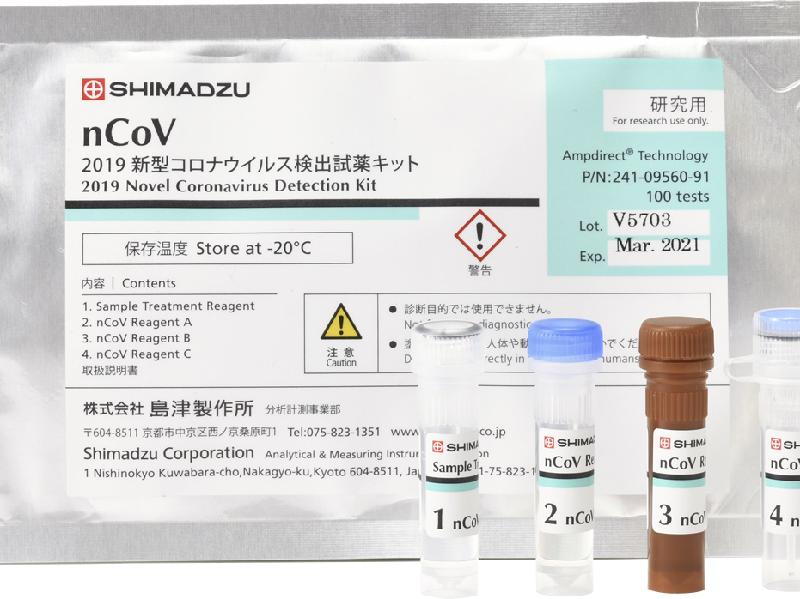 Shimadzu Launches New Coronavirus Detection Reagent Kit for Medical Institutions on April 20
Shimadzu will release the "New Coronavirus Detection Reagent Kit", which has been under development for some time on April 20. For the time being, it will be sold only in Japan, but we will proceed with preparations with a view to overseas exports after May.
In the current detection of new coronavirus (SARS-CoV-2) by the gene amplification method (PCR method), complicated work of extracting and purifying RNA from a sample (sample) such as a nasopharyngeal swab is required. Is required. This has hindered rapid inspection of large numbers of samples. By using this kit, RNA extraction and purification steps can be omitted, so that the labor required for testing can be significantly reduced, and the entire PCR testing process, which took more than 2 hours, can be reduced to about 1 hour, which is half of the conventional level. . Even when testing 96 samples using a 96-sample PCR device, the test can be performed in less than 1.5 hours. In addition, since there is no need for manual work, it also helps prevent human error.

 The "New Coronavirus Detection Reagent Kit" was developed based on our original Ampdirect technology * 1 and in line with the National Institute of Infectious Diseases Manual * 2. The technology states that `` Since the effect of PCR inhibitors such as proteins and polysaccharides contained in biological samples can be suppressed, biological samples can be directly added to PCR reaction solutions without extracting and purifying DNA and RNA. '' is. Shimadzu has been developing and marketing reagents for pathogens such as enterohemorrhagic Escherichia coli, Salmonella, Shigella, and Norovirus using Ampdirect technology. We have developed a virus detection reagent.
1. Quick and easy workability
The kit contains all necessary reagents and can be used for PCR testing immediately. The entire process of reagent and sample preparation, pretreatment (heating), reaction, and detection can be completed in about one hour. No complicated RNA extraction work is required, and the sample is simply mixed with the processing solution and heated. This reduces manpower and prevents human error. Even if 96 samples are tested using a 96-sample PCR device, it can be performed in less than one and a half hours (15 minutes for mixing the processing solution, 5 minutes for the heat treatment, 65 minutes for the PCR, for a total of 85 minutes).
Add a reference component to the reaction mixture of this kit to confirm that the amplification process has proceeded correctly, so that gene amplification does not occur despite positive results due to misoperation, etc. I am. This can reduce the possibility of false negatives and improve the accuracy of test results

 Note: This kit is a research reagent. It has not been approved or certified as an in vitro diagnostic drug based on the Pharmaceuticals and Medical Devices Act. However, the performance is verified using the evaluation method specified by the National Institute of Infectious Diseases, and the insurance-covered "2019-nCoV Genetic Testing Method with Evaluation Results Using Clinical Specimens" (April 9, 2020) Japanese version). Both the positive match rate and the negative match rate in the evaluation are 100%.
Use of this kit requires PCR equipment, dispensing pipettes, thermostats, small centrifuges, and other equipment, as well as sample and gene handling techniques. Is not planned for sale.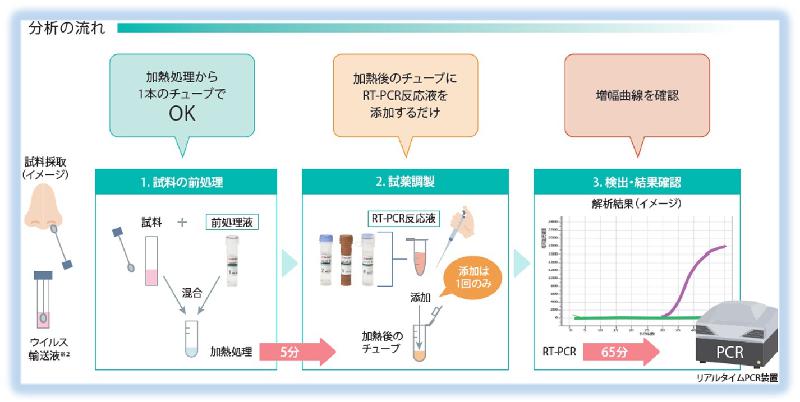 product name
 "2019 New Coronavirus Detection Reagent Kit"

 Price
 225,000 yen (100 samples /kit, excluding tax)

 Monthly production
 100,000 samples
Shimadzu Corporation Home Page
 https://www.shimadzu.co.jp/news/press/zfdyn69049lnnr8r.html