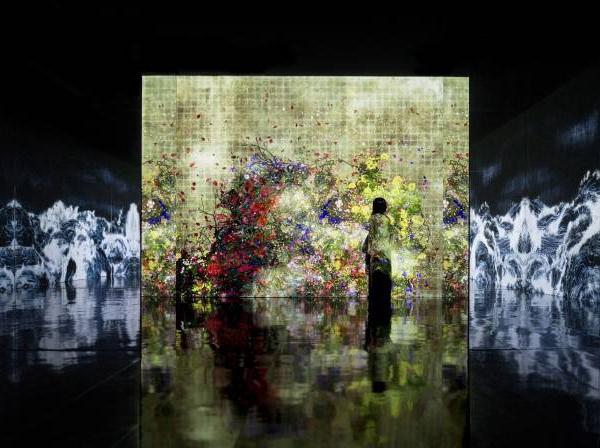 TeamLab is an artist group that combines technology and creative that is attracting attention in the world. You can see the beautiful work of such team lab at the Himeji City Museum of Art.
TeamLab is an art collective. Activities started in 2001. A multidisciplinary ultra-technologist group seeking the intersection of art, science, technology, design and nature through collective creation. It is composed of specialists in various fields, such as artists, programmers, engineers, CG animators, mathematicians, architects, etc.

 TeamLab wants to explore new relationships between humans and nature, and between himself and the world, through art. Digital technology has freed art from matter and made it possible to cross boundaries. We believe that there is no boundary between ourselves and nature and between ourselves and the world. Each other exists within each other. Everything is dangerously miraculous on the continuity of life without boundaries, long and long.

 The works of TeamLab include the New South Wales State Museum of Art (Sydney, Australia), the South Australian State Museum of Art (Adelaide, Australia), the San Francisco Asian Art Museum (San Francisco), the Asian Society (New York) and the Bolsan Permanently in the Contemporary Art Collection (Istanbul, Turkey) and the Victorian National Gallery (Melbourne, Australia).

 (excerpt from https://www.teamlab.art/jp/e/himeji/)
Contents of the solo exhibition
Exhibition name:
 Team Lab The world starts in the dark, but it is still gentle and beautiful
2019.04.20 (Sat)-06.16 (Sun)
 10:00-17:00 (Last entry 16:30)

 * From 4.27 (Sat.) to 5.6 (Mon.)
 10:00-18:00 (Last entry 17:30)

 Closed days:
 Monday * However, 4.29 (Mon) and 5.6 (Mon) are open
Normal ticket

 General 1,400 yen

 High school student 1,000 yen

 Junior and senior student 600 yen

 Free for preschoolers.


 Group ticket (more than 20 people)

 General 1,200 yen

 High school student 800 yen

 Middle school students 400 yen

 Free for preschoolers.


 Ticket sales:

 Play guide, convenience store

 Ticket Pia (P code: 992-130)

 Lawson Ticket (L code: 53564)

 Seven-Eleven

 Eplus

 Main play guides such as CN play guide

 Convenience store


 Himeji City Museum of Art
 Only tickets available on the day
Admission will be restricted according to congestion.

 Due to the limited time, if you exceed the number of guests, you may not be able to enter even if you come.

 The contents are subject to change without notice.
TeamLab Official Homepage
 Team Lab "The world starts with darkness, but it is still gentle Click here for the official homepage of