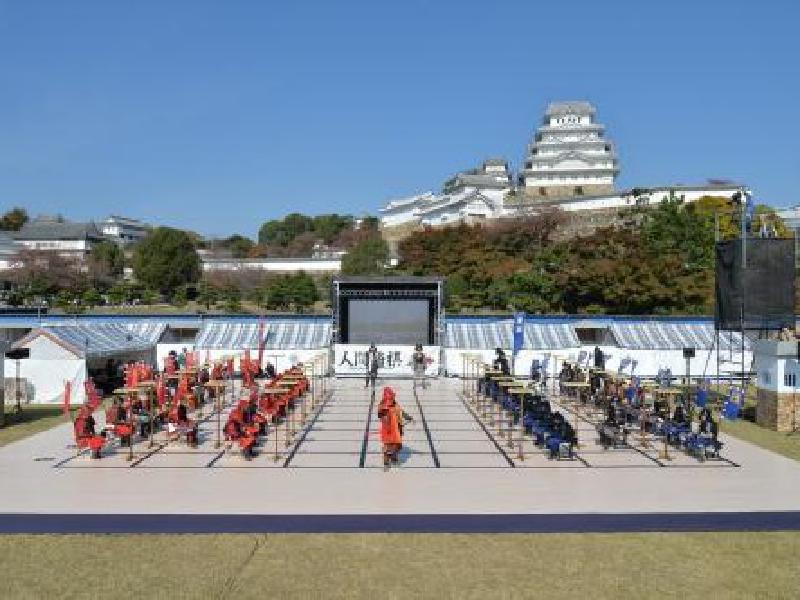 On November 2 and 3 of the first year of Reiwa, the fifth "Human Shogi @ Himeji Team" will be held at Himeji Castle Sannomaru Square, the fifth time! A professional chess player conducts a game by directing human pieces wearing armor and other Samurai costumes, and also performs talk shows and guest games. It is an event that can be enjoyed by adults and children through Shogi, a traditional Japanese culture, for two days during the fall of the holidays!
A professional chess player plays on a large shogi board (approximately 18 meters long x 18 meters wide) using human pieces wearing armor and other Sengoku costumes.
 Professional shogi players command from special towers on both sides of the large shogi board.
 We're also going to enliven the atmosphere of human shogi, with skits featuring people related to Himeji such as Kanbe Kuroda.
November 2, 1980 Reiwa Ishimoto Sakura Female First Dan vs Wakita Nanako Female First Class
 Reiwa November 3, 1st year Sugimoto Masataka 8dan.
City junior high school students wearing samurai costumes such as armor
On Sunday, November 3rd of Reiwa, the actor Koji Yamamoto will appear as a special guest, and will play a guest with Saito Shintaro 7th Dan. In addition, they will also appear in talk shows and large board commentary on human shogi, and please excite the venue.
Irregular rule game "Kagemusha Shogi @ Himeji no Jin"
On Saturday, November 2 of Reiwa, an event will be held for professional chess players to play according to different rules.
 You decide the ball other than your own step as a ball, and point to each other while not knowing the opponent's ball without knowing the opponent's opponent's ball.
 The game will be as if you were hitting a ball player, and in addition to the original pleasure of shogi, the whole venue expects "what piece is a ball" and it will be exciting.
Guidance game (* Advance application is required. How to apply is described below.)
We carry out instruction game to receive instruction of professional shogi player. Advance application only. The tour is free on the day.
From 14:45 each day
2 days 6 people
 Keita Inoue 9th Dan /Kensuke Kitahama 8th Dan /Takayuki Yamazaki 8th Dan /Masakazu Wakamatsu 8th Dan /Ishimoto Sakura Nurse First Dan /Wakita Nanako Nuryu 1st Class
 3 days 6 people
 Kenji Waki eight-stage /Masataka Sugimoto eight-stage /Naoshi Oishi seven-stage /Shintaro Saito seven-stage /Hiromitsu Kamiyoshi seven-stage /Seven-stage Murota Io female-two-stage
2 days 24 people
 3 days 28 people
Free ※ Pre-registration required
Children's shogi tournament (* Advance application is required. How to apply is described below.)
A shogi tournament will be held for junior high school students and below. Excellent prizes will be awarded to the top performers.
Children's shogi classroom (* Pre-registration required. How to apply is described below.)
We hold professional chess player as lecturer and hold shogi classroom for children. If you are new to shogi and just started, please apply.
A shogi quiz by a participating shogi player will be given, and a correct answer to the quiz will be given a present by lot.
Reiwa 1st year "Human Shogi Himeji no Jin" Overview
・ Date
 Reiwa 1st November 2nd (Saturday), 3rd (Sunday) 10:00 to 16:00

 ・ Location
 Himeji Castle Sannomaru Square
 * In rainy weather, it will be held at Shirasagi Elementary and Junior High School (elementary school gymnasium). In addition, the time and content of the event may be changed.
 In case of rainy weather 雨 Phone number 079-282-2012 (automatic answering)

 Event Schedule (planned)
 Saturday, November 2, 1980
 10:00 @ Opening Ceremony
 10:30: irregular rule game "Kagemusha Shogi @ Himeji no Jin", children's shogi tournament
 12:00 Human Shogi (Ishimoto Sakura Women's First Dan vs Wakita Nanako Women's First Class)
 14:00 @ Tsugi Shogi Quiz Answer Announcement, Commentary & Present Winner Announcement
 14:45 @ Guidance game
 16:00 @ Event ends

 Sunday, November 3rd, Reiwa
 10:00 @ Opening
 10:10 @ Guest talk show
 10:30 Guest game (Shintaro Shintaro 7th Dan vs Yamamoto Koji), children shogi classroom
 12:00 Human Shogi (Sugimoto /Masataka /Eight-dan vs. Oishi /Naoji /Seven-dan)
 14:00 @ Tsugi Shogi Quiz Answer Announcement, Commentary & Present Winner Announcement
 14:45 @ Guidance game
 16:00 @ Event ends
Himeji City Tourism Promotion Division
 Person in charge: Fujiwara, Hashimoto, Kajii
 Phone number 079-287-3652
https://www.city.himeji.lg.jp/shisei/0000009294.html