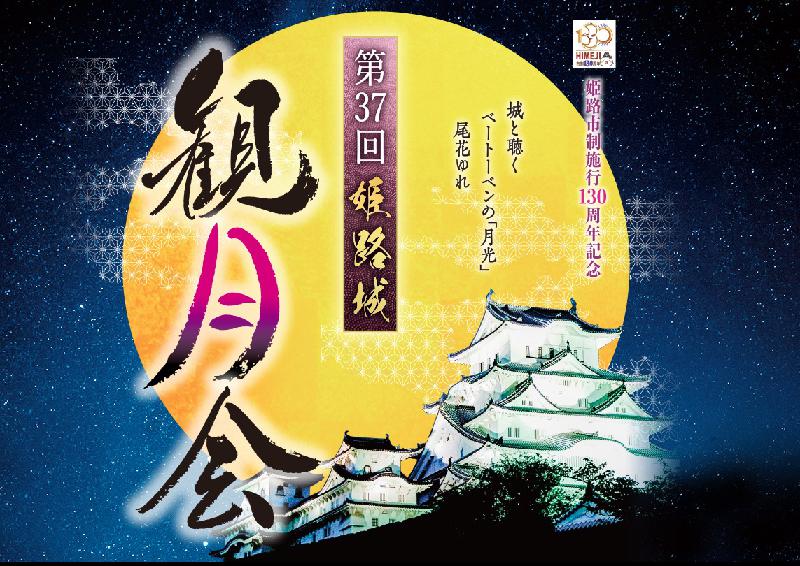 Sept. 13 (Friday) 5pm-9pm
Himeji Castle Sannomaru Square Admission free!
17:20-Citizen participation stage
 (Entertainment group @ Tenke)
 18: 00 ~ Opening event
 18:10-Opening ceremony
 (Greeting, opening the mirror, toasting, Himeji 2020 hospitality promotion council @ Kimono show)
 18:30-Koto (Himeji Japanese Music Cultural Association)
 19: 5 ~ Japanese drum (folk song group @ Shachi)
 19: 40- Sword poem dance and Kayo poem dance (Himeji Ginken Poet Dance Association)
 20: 15- Iwami Kagura (Hamada Iwami Kagura Communication Association)
 21:00 End
Himeji City Organization 130th Anniversary Project Iwami Kagura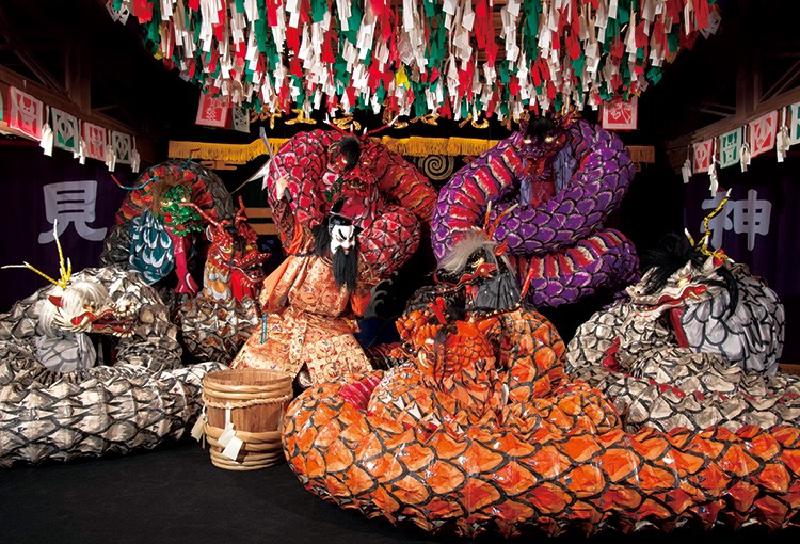 Purpose
 Introduces the activities of Iwami Kagura, who inherits traditional performing arts and is active on the world stage in a region with the same world heritage as Himeji City, and communicates the importance of passing on culture through Himeji Castle Watching Party. I do.
 Group name
 Hamada Iwami Kagura Communication Committee (Hamada City, Shimane Prefecture)
 About Iwami Kagura
 Kagura is a traditional performing art in the Iwami region of western Shimane Prefecture, dedicated to the rich harvest of five grains. He has performed all over the country as well as around the world.
 Registered as a Japanese heritage on May 20, 1980, as "the world of myths in which gods and demons move.
 Performance at Himeji Castle Watching Party (scheduled, 45 minutes)
 Orochi
 This is a synonym for Iwami Kagura, a dance that dynamically defeats Susanonoomikoto's Yamatonorochi, which appears in the Nippon Shoki and Kojiki. The highlight is that dancers enter the lantern snake body made of only Japanese paper and bamboo, hiding their bodies in the body and dancing.
17:00-Tea ceremony @ 500 yen per seat
 * With tea confectionery on the day, until 20:30
 18: 00-21: 00
 Senki bento ¥ 1,000 (Himeji Rental Association)
 Hospitality Cafe (Himeji Ryokan Association)
 Otsukimi dumpling ¥ 500 (Himeji Confectionery Association)
 Fried kamaboko ¥ 300 (Nishisansui Brick Products Association)
 Himeji Oden 500 yen (Nishisansui Brick Products Association)
 Local sake ¥ 500 ¥ With snacks (Himeji Sake Brewery Cooperative)
 * Up to 3 cups with limited cups and snacks on the day
Moonrise (18:00)-21:00 Moon observation corner (cooperation Himeji Science Museum) ※ Free
 Commemorative photo corner (Himeji Castle Event Executive Committee)
 Make Himeji Castle Objects with Matchsticks! (Cooperation @ Himeji Science Museum, (one company) Japan Rinsan Industry Association)
Notice of postponement of rainy weather
Himeji Castle Event Executive Committee Secretariat (Himeji City Town Development Promotion Organization)
 079-282-2012 (automatic response)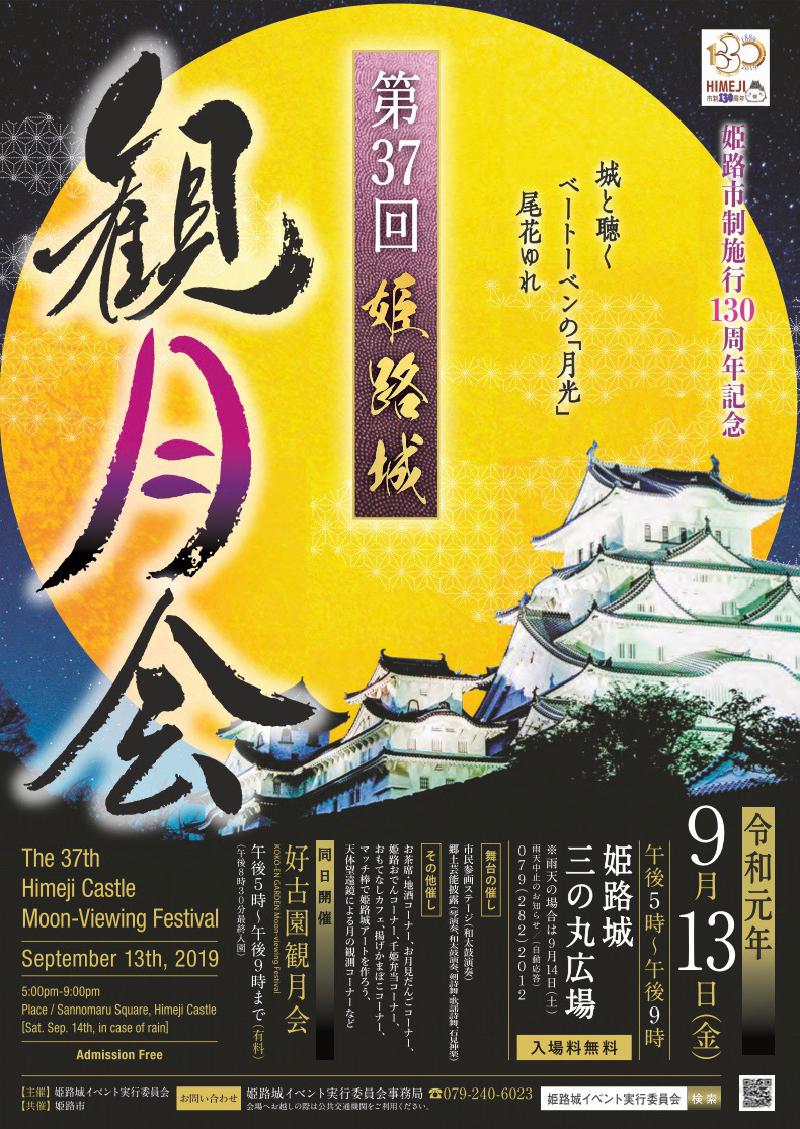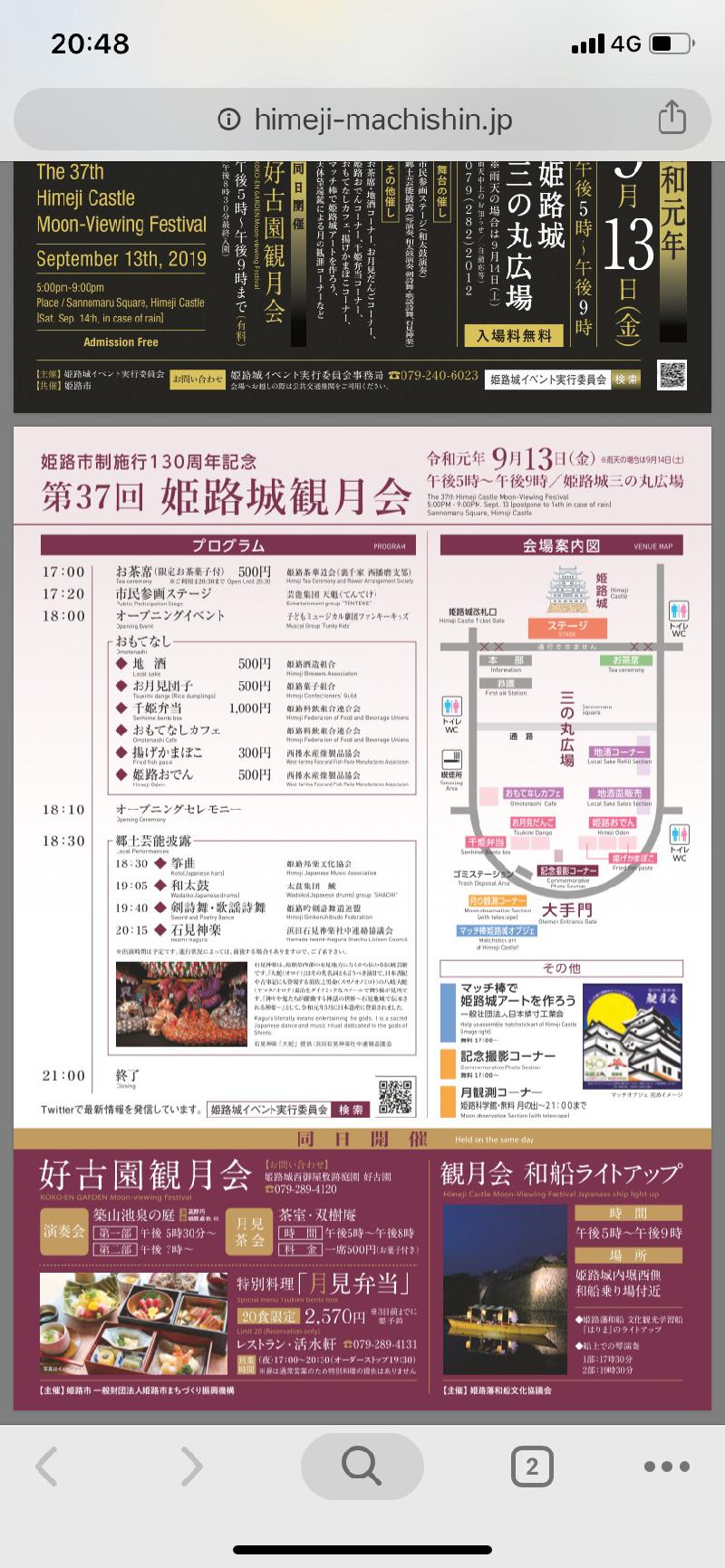 Himeji Castle Event Executive Committee Secretariat
 (Himeji City Community Development Organization @ Event Promotion Room)
 〒670-8501 4-chome Yasuda, Himeji City

 Phone 079-240-6023
http://himeji-machishin.jp/himejijo-event/