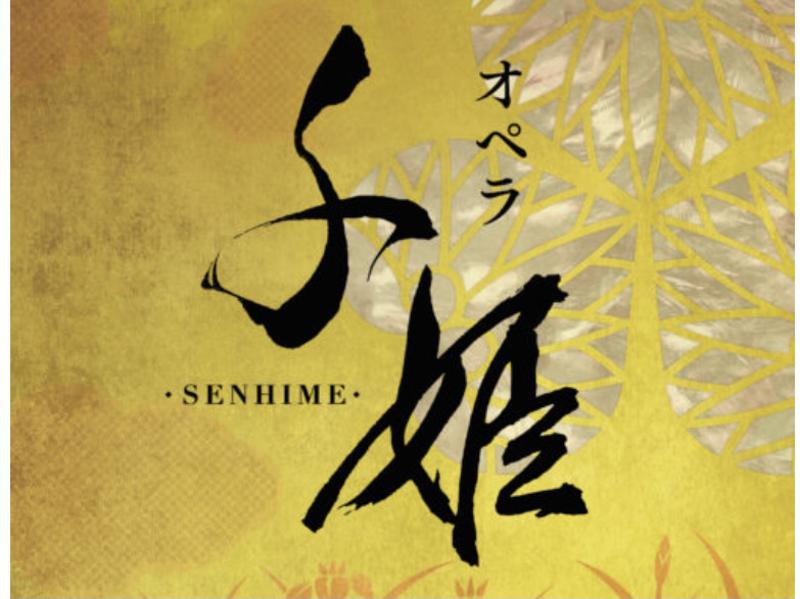 Opera of the life of "Senryu" wave life. A magnificent new opera that decorates the opening of Akcrie Himeji.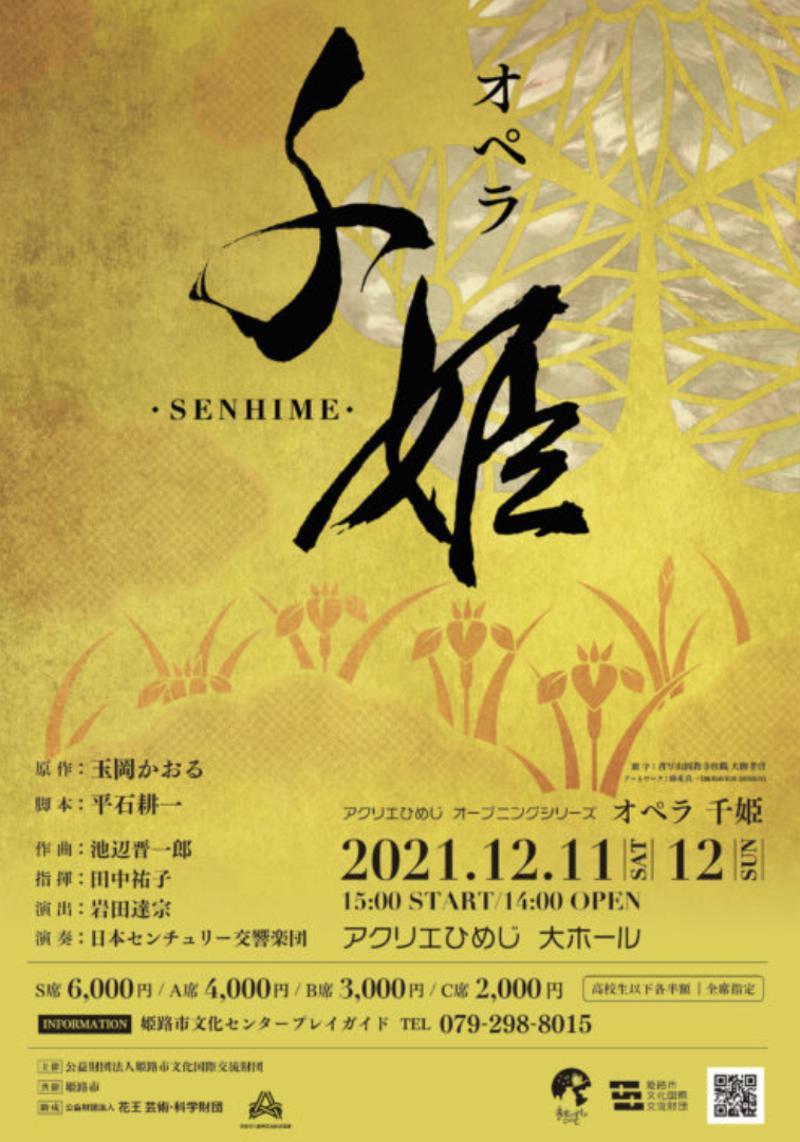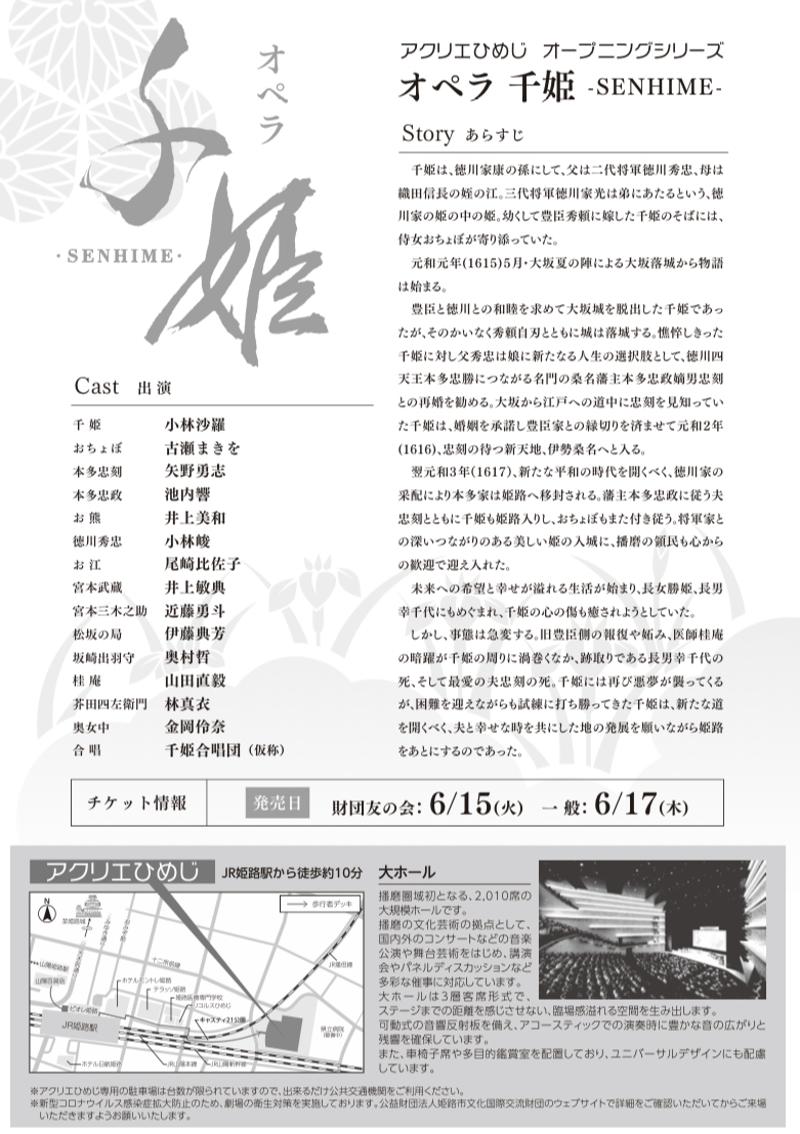 Opera of Himeji Castle Heroine "Senhime" life of Himeji Castle's Senya "Senhime" of Himeji Castle's Senayo "Senhime" by Himeji Castle's grandchild, with Himeko Kaoru, "Princess' s Himeko Senno Mojiro".
Please take a look at the magnificent new opera that decorates the opening of the New Meeting.

Original: Sakao Tamaoka
Screenplay: Natsukauchi
Composition: Shinichiro Ikebono
Conductor: Tanaka Yuko
Direction: Iwata Tadan
Performance: Japan Century Symphony Orchestra
 
[Cast]
Senhime Kobayashi Sawara
Ochigo Ohashi
Honma Tado Yano Yano
Hot Seibari Ikenida
Miwa Kumao
Hideki Tokugawa
Sako Sakai Sakai
Miyamoto Musashi Inoue Sensei
Miyamoto Miki Kono Kono Kondo
Matsuzaka Bureau Ito Ryo Yoshi
Sakazaki Otsumi Oshimura Tetsu
Katsura Yamada right man
Tejida Shirakemon Hayashi Mei
Okaoka Kanoka
Choi Chihime Choir (provisional name)
 
【Title】
Senki Yamayo Temple
【Flyer Art Work】
Maichi Fujita (Behavior Design)
 
【Grant】
Kao Arts and Science Foundation
Art Culture Promotion Fund 
Akcrie Himeji large hall 
Date and time: December 11, 202 (Saturday), 12th (Sunday)  Opening at 15:00 on both days (14:00) 
General S seat 6,000 yen A seat 4,000 yen B seat 3,000 yen C seat 2,000 yen  High school students or less half price (full seat specification)  ※ Not schooled entertainment is not possible. 
■ Release date
Friend's meeting release: June 15 (Tuesday)
General release: June 17 (Thursday)
 
■ Play Guide
Himeji City Cultural Center Tel.  079-298-8015 
Parnasos Hall Tel.  079-297-1141 
Himeji Caspa Hall Tel.  079-284-5806 
Opening hours: Himeji City Culture Center [weekdays] 10 o'clock to 17 o'clock/[Saturdays, Sundays and holidays] 10 o'clock to 11:30, 12:30 to 17:00
Palnassos Hall, Himeji Casper Hall 【Weekday, Saturday, Sunday, Holiday Holiday】 10 o'clock to 17 o'clock
The first day of the first day of the general release is from 10:00.
If you purchase more than 10 sheets at the above window, one off.
 
Lawson Ticket L Code: 53839
Ticket Pia P Code: 197-287
E + (E-Plus)  https://eplus.jp/
※ Separate ticket fee will be charged
 
 
[We would like to understand and cooperate with the following efforts to prevent new coronavirus infection. ]
Conduct temperature before admission. If the heat generation (37.5 ° C or higher) or cold is possible, we will refuse the entrance.
We will ask you to "your name/contact information" etc. when making a ticket purchase and booking. Please note that this information may be provided to public institutions such as public health centers as needed.
Be sure to wear a mask at the time of visit. (Mouse shield not possible)
Please disinfect the finger with the inlet installation alcohol disinfectant.
Please refrain from customers in the venue as much as possible.
Inside the audience and the lobby constantly ventilate.
Disinfection such as the wording of the audience, the stairs of the stairs.
Hall staff wear a mask and customers.
Blanket lending will be discontinued.
Meeting to perform and presents and flowers (lobby flowers), please keep in mind. There is no signing session.
[Reference: Hyogo prefecture new coronavirus measures guidelines] 
Himeji City Cultural Center Tel.  079-298-8015