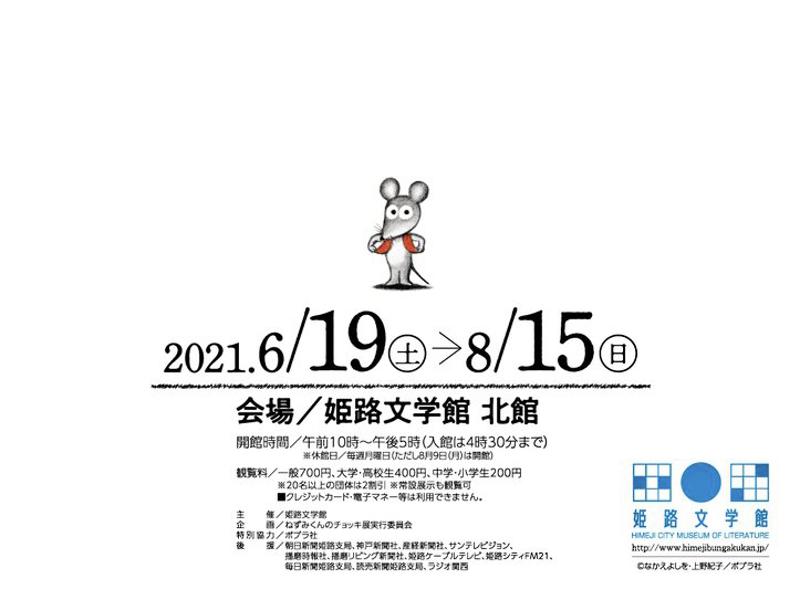 Longceller picture book to enjoy with parent and child First large-scale exhibition! 
Mizumi-kun's Cock Exhibition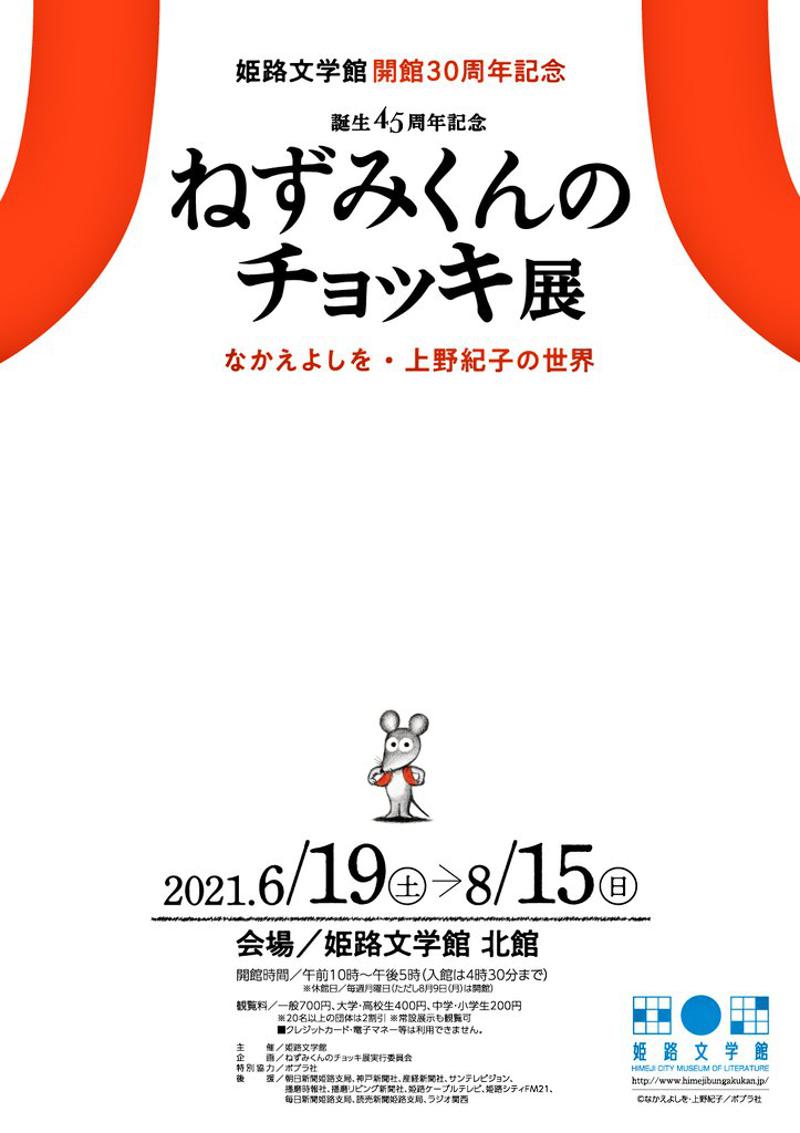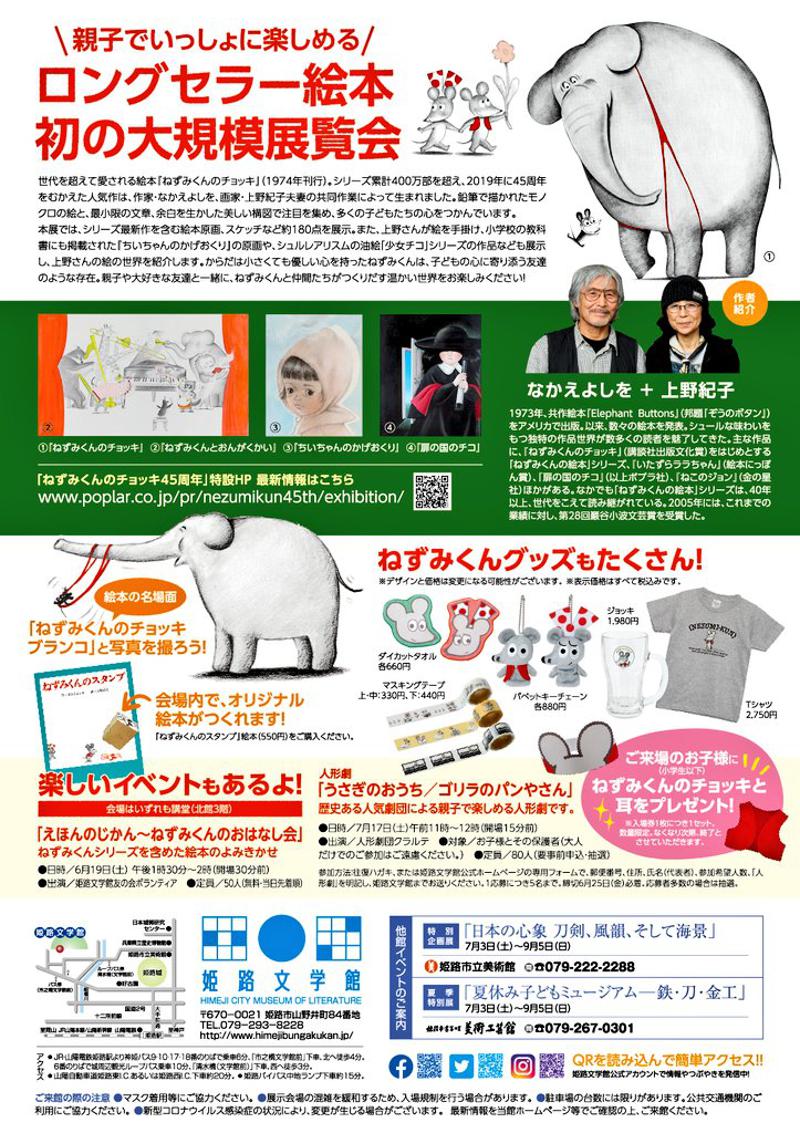 A picture book that is loved across generations "Nezumi-kun's vest" (1974 publication).
A total of 45 million series, and the popularity of the 45th anniversary in 2019 was born by the joint work of the writer and Koihono, and his wife.
The pencil painting drawn with a pencil picture, a minimal text, a beautiful composition that makes use of the margins, and grabs the mind of many children.
In this exhibition, about 180 points such as picture book originals, sketches, including series latest work.
In addition, Mr. Ueno worked on a picture, and the original picture of "Chi-chan's Kadori" published in elementary school textbooks,
We will exhibit the works of the oil painting "Girl Chico" series of Surrealism and introduce the world of the picture of Ueno.
From a small, good heart, a good heart, a friend like a friend who serves to the heart of the child.
Enjoy the warm world where male and her friends make up with parent and child and your favorite friends!



 For children visiting (primary school children or less)
Mizumi-kun's vest and ears!
※ 1 set per admission ticket. Limited quantity. As soon as it disappears, we will end. 

 
Worth 3 years (2021) From June 19 (Sat) to August 15 (Sun) 
Every Monday (Monday, August 9) Open 
From 10 am to 5 pm (admission to 4:30) 
Himeji Literature Hitachikan 
General 700 yen, university, high school student 400 yen, junior high school, elementary school student 200 yen  Twenty or more groups are discounted  Permanent exhibition is also available  Credit cards and electronic money are not available. 
Himeji Literature Hall 
Mizumi-kun's Cock Exhibition Committee 
Poplar 
Asahi Shimbun Himeji Ah, Kobe Shimbun, Sankei Shimbun, Sun Television, Harimahin, Harima Living Shimbun, Himeji Cable TV, Himeji City FM21, Mainichi Shimbun Himeji Himeji, Yomiuri Shimbun Himeji, Radio Kansai 
Noriko Ueno  1973, co-work book "ELEPHANT BUTTONS" (Japanese title "Tomo no Button") published in the United States. Since then, she announced a number of picture books. Her unique works of her surreal taste The world has attracted many readers. In the main work, "Mizumi-kun's picture book" series, "Mizumi-kun's Culture Award" (Kodansha Public Culture Award Winner) Poplar, "Nene John" (Gold Stars company).  Above all, the "Mizumi-kun's picture book" series has been read over 40 years and at the generation.  In 2005, he won the 28th Obata Keisuke Gune Prize for her future performance. 
The venue is all the auditorium (Kitakan 3rd floor) 
"Ehon no Jikan-Natsumi-kun's Statement Association" 
Yomiki of picture book, including the male-kun series  Date and time June 19 (Saturday) 1:30 pm (1:30) (for 30 minutes before opening)  Cast Volunteer  Capacity 50 people (free of charge, first arrival order) 
Puppet show "Rabbit house/bread of gorilla"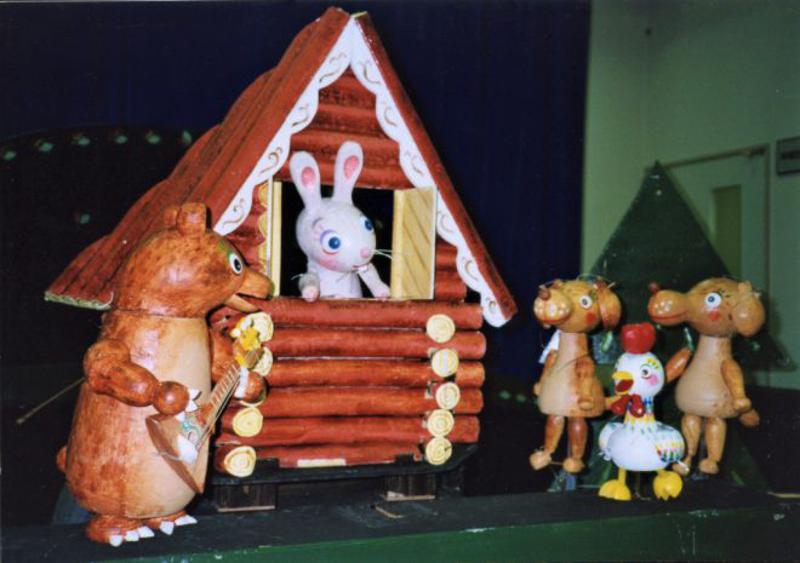 Rabbit house  It is a puppet play that can be enjoyed by parent and child by a historic popular theater company.  Date and time July 17 (Saturday) from 11:00 am (15 minutes before opening)  Cast puppet theater company Clartain  80 capacity (required prior application/lottery)  Target children and their parents (please do not join the adult alone.)  How to participate Postcards, and the postal code, address, name (representative), "puppet show", and number of participating people, in the dedicated form of the Himeji Literature Museum of Himeji Literature Museum of Himeji. Up to 5 people for one application.  Deadline June 25 (Fri) must arrive. In the case of a large number of applicants, lottery.   Apply for puppet show