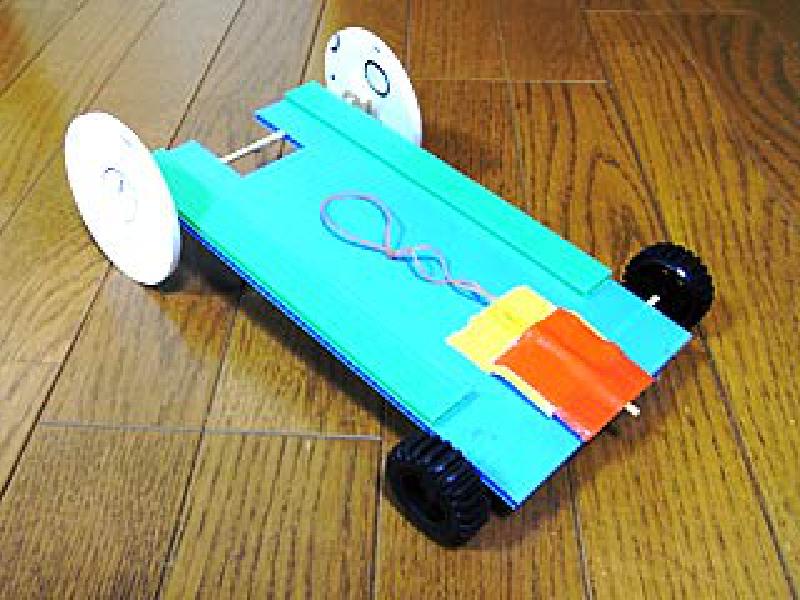 The "Rubber-One® Grand Prix" is a sport that originated in the Himeji Science Museum, where you compete for how long you can run and how fast you can run a car powered by three commercially available rubber bands.
Rubber One (R) @ 25th Grand Prix Tournament
The Rubber One (R) Grand Prix Tournament is a competition that began in 2006 and competes for mileage with a self-made rubber one-car powered by three rubber bands from Himeji Science Museum. It is the 25th time.

 A competition where children and adults can enjoy using familiar materials.

 Please see the website of the Rubber One (R) Grand Prix (https://www.city.himeji.lg.jp/atom/robo/gum1/index.html) for the tournament status so far.
https://www.city.himeji.lg.jp/atom/robo/gum1/index.html
The Rubber One (R) Grand Prix has a "Basic category" that competes for the distance traveled by a car using three rubber bands, and a "Speed category" that competes for speed.

 The basic category is limited to "using rubber bands directly around the axle and using the power to return". Elementary school class, general class for junior high school students and above, and a group competing for a total distance of three elementary school teams There are departments.


 From 10:00 to 12:30 on Sunday, July 7, 1980

 ◆ Program (planned)
 Opening ceremony from 10:00
 Basic elementary school section
 Basic General Division
 Basic group section
 Speed category
 From noon to awards ceremony

 ◆ venue
 Himeji Science Museum 4F, Lecture Room

 ◆ Viewing fee
 Free
Division in charge Himeji City Himeji Science Museum

 Contact Yoshida

 Phone number 079-267-3001